Commitment Signing Day Celebration
Monday, November 25th: A date that marks a new chapter in the lives of six Patchogue-Medford Athletes.
Seniors Alexa Maggiacomo, Caitlin Dellecave, Kylie Peregoy, Gabby Buscemi, Shannon Lake, and Catalina Saxen were honored by their families, coaches, PM athletic director, and school officials on their commitments to continue their sport at the college level.
This day was about honoring our athletes for all of their hard work over the years and congratulate them on opening a new chapter of their lives. 
The ceremony was led by PM Athletic Director Mr. Cox who was beyond pleased to see these young ladies accomplish so much. 
He states, "[the girls] will not only represent their family well and themselves but also the Patchogue Medford community as a whole."
Mr. Cox is excited to see what the future brings for these girls as he knows they will accomplish great things. He feels that all six of these girls are "Raider Ready" from the leadership and teamwork they learned playing their sport and their hard work over the years. 
Each athlete was called up individually to officially sign their form of intent.
Athletes Caitlin Dellecave, Alexa Maggiacomo, Shannon Lake and Gabby Buscemi will continue playing Lacrosse for the next four years, Kylie Peregoy committed for Field Hockey, and Catalina Saxen committed for Softball.
Coach Armstrong who has coached five of the six girls committing today said, "I am so proud of them they have been with me for many years, they have been a part of the program for many years and I feel honored to be their coach."
You could feel the excitement in the room as this day marks the beginning of an end for all the girls.
Catalina Saxen said, "I am so excited to be playing the sport that I love for another four years."
These athletes are entering or have just finished their last season playing a sport that they love and have played their whole life.
Kylie Peregoy said, "It is so sad that I will never play field hockey as a Patchogue- Medford Raider but I am thankful for everything I have learned and all the memories I made from the experience."
Our seniors are moving on but they will always carry the Raiders pride with them. Everyone is so proud of our athletes including their parents who were there for the ceremony.
Alexa Maggiacomo's mother, Lynne Maggiacomo, said,  "I have been so excited about this day coming and I am so excited to be here and that all of her hard work payed off."
All of the parents were so proud of each and every one of the girls and so happy to see them continue playing their sport.
Caitlin Dellecave's father, Mark Dellecave, said, "We couldn't be more proud of our daughter and all these girls. We have seen them all grow up and to now come together like this is a special day for all of us."
 Patchogue-Medford High School Principal Dr. Rusielewicz said, "It's so very exciting  our young women go on to start their lives."
The entire Patchogue-Medford community is supporting these girls and cannot wait to see what they accomplish. 
No matter what university they attend they will always carry their Patchogue-Medford pride with them.
About the Contributor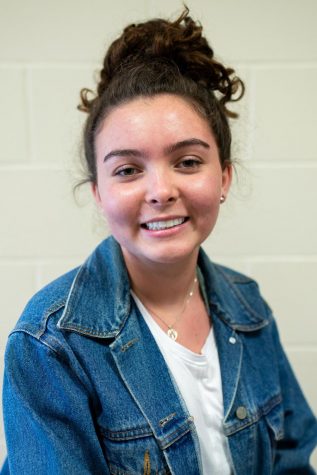 Stephanie Sheridan, Business Manager
Grade 11

"You can make anything a reality if you fight for it."