Sidewalks for Student Safety
The Generation Civics class is getting closer to their goal of getting sidewalks around PMHS.
Each year, the Generation Citizen Civics class comes up with something they think is an issue in the community they would like to resolve.
"This class is very different than your traditional government class. It allows students to pick an issue that is relevant in their community, school, or town and try and solve it," said Mr. Carlson.
This year, the class has been working all year to reach their goal to build a sidewalk for walkers to get a sense of tranquility and a safe feeling when they are walking to school.
"The roads are narrow so cars and busses get really close together, especially in the morning there is a lot of traffic and sometimes it is dark out and some students come close to contact with other cars and busses. I am not saying anyone got hurt but we want to keep preventing that and would really like to implement sidewalks to keep that safety and boundary," said Angela Avecillas.
When teacher Mr. Carlson heard their idea, he knew they could accomplish their goal.
"This class decided to make the area around the school safer for walkers, especially in the morning, by trying to extend the sidewalks on Buffalo Avenue. We figured not only would this make it safer for the walkers who are walking to school but it will make it safer for the community in general," said Mr. Carlson.
This past week, the class spoke with Councilman Neil Foley to address this issue; however, he was not the first person they spoke to on their journey.
People including workers and residents, the Director of Transportation as well as our Superintendent, Assistant Superintendents and Principal of Patchogue-Medford High School were all asked to give their input.
"One of our mainstays as officials is to keep the public safe," said Councilman Neil Foley.
Student surveys, research and land analysis were conducted, dozens of phone calls and emails were made, interviews were scheduled and community meetings were attended in their effort to make a change.
"Sometimes when I am driving to school, it is dark outside since it is early in the morning and there will be kids that get close to the road and I have to slow down. Since there is a lot of traffic in the morning, busses get close and as a driver, iI drive extra slow since there are no sidewalks. It almost gives me anxiety, I don't want to hit somebody," said Colin Norman.
The process took time and a lot of work was put in by each student in the class to get to this point.
"There were a couple of ups and downs but the journey overall was successful and we got a lot of people to side with us on the issue," said Angela Avecillas.
Any student living in a house located 0-1.5 miles away from the school in any given direction is not eligible for the free bussing provided by the school. Therefore, they must find alternative ways such as walking or driving.
"We were looking at from Jamaica Avenue on the north side because after Jamaica is a dead end, and coming south to Southaven Avenue," said Councilman Neil Foley.
If the sidewalk is approved, it will most likely be built straight through with no interruptions, not broken up in any way and would be 2400 feet of new sidewalk and aprons.
"This is pretty much straightforward and is not a controversial issue, I personally don't think it's going to be a heavy lift getting the money," said Councilman Neil Foley
The addition of sidewalks is not that simple. As mentioned by Kevin Geiger, they would have to be ADA compliant which refers to the Americans with Disabilities Act and means there must be sidewalk aprons to allow it to become level with the road. These aprons would have to be at each intersection, corner, and driveway the sidewalk will cross in order to meet the ADA requirements.
"
"The class puts the kids right in the political process and they realize they can make a change and do something that really helps their school""
— Mr. Carlson
The students are seeing the whole process and how much work goes into certain ideas. What once started as an idea on a piece of paper is now coming to life in front of their eyes.
"The class puts the kids right in the political process and they realize they can make a change and do something that really helps their school," said Mr. Carlson.
After their meeting with Councilman Neil Foley this past week, students of the Generation Citizen Civics class are feeling more confident about their hard work.
"It wasn't hard to get this idea into the community because we have very supportive councilmen and decision makers," said Samantha Valladares.
About the Contributors
Isabella Scuteri, Editor in chief
Isabella is a senior at Patchogue-Medford High School and fourth year journalism student . She is the Editor in Chief and helped get the newspaper off...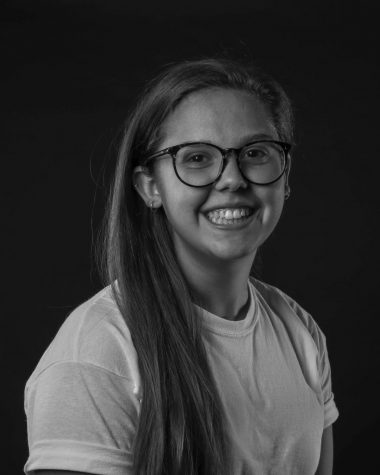 Phoebe Lawson, Staff Writer
Phoebe is in her senior year of high school and has been a dedicated part of the school newspaper and Journalism class since her freshman year. Although...