A Pundit and a Journalist Walk Into a Class…
Centereach High School graduate Christopher Hahn and Sachem High School graduate Chris Vaccaro share their wisdom and experiences of their work to the Journalism class.
Hang on for a minute...we're trying to find some more stories you might like.
Journalism, in general, is the profession of writing for a variety of platforms which ranges from magazines, newspapers, and broadcasts. The journalism course taught by Mrs. Sullivan is a class where students are taught the basic principles of journalism, examining other established articles, as well as writing their own work. The in-class work is light and anything required out of school is moderate.
Mrs. Sullivan's Journalism class had the pleasure of hosting Chris Vaccaro and Christopher Hahn on March 12th and 15th, respectively. Chris Vaccaro is a professor at Hofstra University as well as an established journalist and published author who still remains very close to the community that he grew up in. He has an impressive resume that consists of being the first editor of any "Patch", Current Editor in Chief of Digital Sports at Topps, President of Press Club of LI, as well as many more.
He delighted the journalism course by discussing his journey through his career, lessons that he has learned in his life as a result of his pursuit of journalism, and the connection he has towards Sachem and Pat-Med. Since high school, Chris Vaccaro knew he wanted to be a sports writer and took advantage of what Sachem North High School had to offer as he participated in the school paper and radio. One piece of wisdom that Chris Vaccaro provided was that in the early years of your career you're going to have to sacrifice. He prefaced this by explaining how he spent his days in college looking for events at LI to cover and doing freelance writing which eventually lead to the Daily News offering him a job six months out of college. However, this job was both a blessing and a curse as he gained a lot of experience working for a major publication but he had to put in long hours and toiling work.
Another lesson that he shared with the journalism class is to pursue your passion because as previously stated he initially wanted to be a sports writer because that was his passion and this same passion lead him to obtain a job at Topps as an online editor. This eventually lead to him being promoted Editor in Chief of Digital Sports after helping in the success of an app launched by Topps.
"
"Be true to where you are from…""
— Chris Vaccaro
The final thing that Chris Vaccaro told us was to appreciate where you are raised as Chris Vaccaro refers to himself as the "Encyclopedia of Sachem" due to his extensive knowledge of his school. This can also be reflected in his interest as an editor for the Patch which was a position he held briefly to cover local news. Not only that, Chris Vaccaro still contributes to the school that raised him as he is the director of the Sachem Hall of Honor, he also manages part of Sachem's PR as well as many other districts, including ours here at Pat-Med. 
Christopher Hahn also shared his life and wisdom with the journalism class as he is an accomplished political commentator, Fox News contributor, national radio host, named as one of the 40 rising stars under 40, as well as listed in Top 10 LI from 2000-2010.
Christopher Hahn valued many things as a pundit who essentially is an opinionist, who uses facts that favor his view and chooses to ignore contradicting evidence to convey his beliefs. A belief that he shared is that he believes in the free press and believes people are no longer using facts in arguments but rather falsifying evidence to support someone's views in order to promote "fake news".
Christopher Hahn grew up in Ronkonkoma and graduated from Centereach High School, he grew up from a poor family but was an active participant in school and participated in theater which he credits for nurturing his comedic personality and improv. After high school, he was able to attend St. John's University where he worked in the student body which sparked his interest politics. At 21 years old he ran for Suffolk County legislator and unfortunately lost, however, the voting was close.
Despite his loss, Christopher Hahn turned his experience into a lesson by telling the class to maintain their contacts because he was able to arrange an interview to apply to work in Senator Chuck Schumer's campaign. He was able to arrange this interview because he maintained connections with a man whom he had met during his own campaign.
Christopher Hahn first started on an internet show and was scouted for his talent and managed to get an opportunity on Hannity (A current affairs and political commentary show on Fox News) the very next day. From his very first appearance, they enjoyed his personality and continued to have him reoccurring in the show.
Both Chris Vaccaro and Christopher Hahn are very accomplished men in their respective fields and provided Mrs. Sullivan's journalism class with very insightful information regarding the industry. They also provided life lessons that can be applied to any fields outside of journalism such as pursuing your passion.
About the Contributors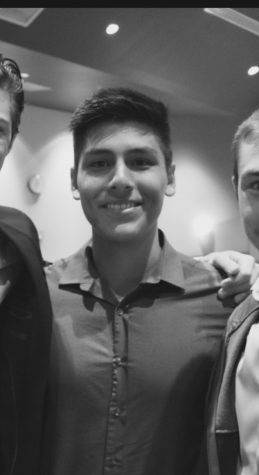 Justin Valverde, Staff Reporter & Co-Anchor
Gr. 12
"Live as if you were to die tomorrow. Learn as if you were to live forever."  ~Mahatma Gandhi