Start of 2018-2019 NHL Season Predictions
Breakdown of potential ranks for each division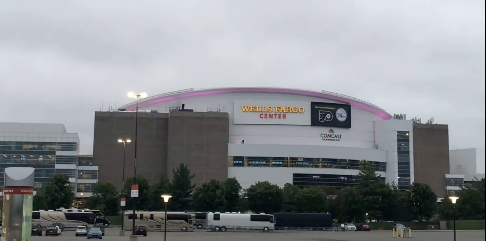 Hang on for a minute...we're trying to find some more stories you might like.
At the end of last year's NHL season, fans saw an improbable ending with the Washington Capitals finally getting the job done after 44 years with no championships. The victory came against another team no one expected in the finals, the Vegas Golden Knights, who were in their inaugural season in the league. This goes to show how the NHL is very difficult to project which teams will reach success and which teams will be in the league's basement. This year, now that the Capitals and Golden Knights showed that anything is possible over the course of a season, there is excitement and anticipation to see what the 2018-19 season will bring. Here are my predictions for the standings for the upcoming season.
There are some extreme stretches with some of the positions teams are placed in. The criticism is already flowing in like, "Arizona making the playoffs?? They were last in their division last year!" or "Colorado was a one year wonder, no way they're better than St. Louis.". Alright, here are the reasonings for these…
Eastern Conference Analysis:
Metropolitan:
In the Metropolitan, Washington and Pittsburgh seem to finish 1st and 2nd every year, and it doesn't seem like that's changing. Both still have their powerhouse superstars, roster depth, and strong coaching staffs.
New Jersey will be in the 3rd spot because they already have the Hart Trophy winner Taylor Hall plus a solid prospect pool with young guys like Nico Hischier and John Quenneville. Most see their playoff appearance last year as a fluke, but they will surprise a lot of people again.
Columbus' positioning all depends on if they can keep the evolving Artemi Panarin, who proved last year he doesn't need to ride Patrick Kane's coattails to achieve success. If Panarin does not get traded, Columbus will have that offensive firepower they need with the Vezina winning goaltender Sergei Bobrosvky and a strong defensive core lead by Seth Jones.
Philadelphia has a good team but with their current inconsistent goaltending tandem of Brian Elliott and Michal Neuvirth, mediocrity will follow the Flyers, yet again.
The Islanders and Rangers both are in similar situations with talented aspects of their team but not a depth team with a defense on the weaker side and should both be bottom three in the division again.
Carolina has a similar situation to Philly but does not have a team in front of them. The young Finnish forward Sebastian Aho and 2nd overall pick Andrei Svechnikov should be the only positives coming out of Raleigh, since this team cannot go anywhere with terrible goaltenders Scott Darling and Petr Mrazek.
Atlantic:
The Atlantic should have a competitive Top 4 but past Tampa, Toronto, Florida and Boston, the rest of the division is a disaster. Looking at Tampa's offseason, they did not lose any key pieces after a disappointing defeat in the Eastern Conference Finals last year. The team lead by Nikita Kucherov, Steven Stamkos, Victor Hedman, and Andrei Vasilveskiy should have no problem taking this division again. Depth signings such as Ryan McDonagh and JT Miller, who were acquired in a trade with the Rangers should help Tampa a lot so they don't have to rely on their big stars.
The next best team in the division, Toronto, has an interesting situation. They have one of the best offenses in the league, plus they went out and reeled in arguably the biggest free agent in NHL history, John Tavares. However, Toronto's defense is viewed as weak and has many flaws plus the Leafs have one of the most inconsistent goaltenders in the league, Frederik Andersen.
Florida and Boston will be battling it out all year for who gets the 3rd spot and the Wild Card spot. The Panthers will take the spot over Boston mostly because of their offensive firepower and a good mix of veteran presence and promising young talent on defense. Goaltenders Roberto Luongo and James Reimer have shown their reliability over their careers which should greatly help Florida. The Bruins are no strangers to a close division race which is what should make this year intriguing. Their talent such as Brad Marchand, Patrice Bergeron, and David Pastrnak will guide their offense to being one of the best in the league. The question mark for Boston is their defense as past Charlie McAvoy and Zdeno Chara, they are players that will be shaky at some times.
There really isn't much to say on the remaining four teams in the division. Buffalo has definitely made a move to climb out of the league basement but their lack of depth on offense and Carter Hutton, who had one successful year, as their goalie should be what holds them out of the playoffs.
Detroit has slim talent left after losing franchise player Henrik Zetterberg to retirement. The Red Wings still have electric Dylan Larkin and Andreas Athanasiou to watch but it should be another rough season in 'Hockeytown'.
Montreal has arguably the worst roster in the league with their captain and top defenseman Shea Weber out for the first half of the year. Montreal fans will not be looking forward to another disaster this year. Ottawa is doing everything they can to TRY and finish last. Trading Mike Hoffman and Erik Karlsson due to a locker room dispute kills their chances at even having a .500 record. Plus, Ottawa doesn't have a first round pick due to the Matt Duchene trade from a year ago.
Western Conference Analysis:
Central:
The Central Division has the most unsureness with how teams will finish. Nashville seems to be a lock to win the division with their top defensive core of P.K. Subban, Roman Josi, Ryan Ellis and Mattias Ekholm. Their quest for the first Stanley Cup continues as Nashville remains a contender.
Winnipeg will be right up there with the team they defeated in the Western Conference Semifinals last season. The only issue that the Jets may have is goaltender Connor Hellebuyck not being able to maintain the success he had last season where he was nominated for the Vezina Trophy. Other than that, superstars Blake Wheeler, Patrik Laine, and Mark Scheifele will contribute to a successful year for the Jets.
A surprise from last year was Colorado's playoff appearance, lead by Hart Trophy nominee Nathan MacKinnon. The Avalanche put up a fight against the top-seeded Predators without their starting goaltender, Semyon Varlamov or top defenseman, Erik Johnson. Development of young players Tyson Jost, Alex Kerfoot, and Sam Girard should be the key pieces to propel the Avalanche into a playoff spot. St. Louis will not be far behind Colorado but a lack of goaltending and their aging core should be what keeps the Blues from the playoffs again.
Chicago, Minnesota, and Dallas should be in similar spots this year. All of them have some talent on their roster but too many weak spots in their roster, mostly the depth of the teams. The Blackhawks weak bottom 6 forwards and defense past Duncan Keith will not add secondary scoring to the talent of Patrick Kane. Minnesota, if they play like the dominant roster they could be, would be in the playoffs. However, their entire team seems to be injury prone and the inconsistency of this team will weigh them down in the end. The Stars have no talent at all past their first line of Benn, Seguin and Radulov with a weak defense. Goaltender Ben Bishop the and strong first line will keep Dallas from being among the worst teams.
Pacific:
The Pacific division will see San Jose on top this year thanks to their offseason moves. The Sharks trade for premier talent, Erik Karlsson, and the re-signing of Evander Kane will fill in the holes that plagued this team in the past. The defensive core of Karlsson, M-E Vlasic, Brent Burns and Joakim Ryan rivals Nashville's for the best in the league and is ready for a deep playoff run.
Vegas has potential for their second playoff appearance with their acquisitions of Max Pacioretty and Paul Stastny. Their key is goaltender Marc-Andre Fleury who was the most important part of the Golden Knights last season and if he plays up to standard, Vegas will be tough to beat again.
Back over California, both the Kings and Ducks look for vengeance after being swept in the first round by divisional rivals. Both teams are similar in their build as physical teams with young talent and reliable goaltending. Los Angeles has a bit of an edge over Anaheim because the Ducks lost star Corey Perry due to surgery.
Arizona making the playoffs would be a huge deal for the fans of the Coyotes but the season would have to go perfectly just for a Wild Card spot. Goaltender Antti Raanta was one of the best in the league last year towards the end of the season and has shown that he is no longer a backup. Young talent like Clayton Keller and Christian Fischer should mix well with veterans Oliver Ekman-Larsson and Derek Stepan highlighting the Coyotes strong roster balance.
The area of Western Canada will not have a lot of success, similar to their Canadian counterparts in the East (minus Toronto). Edmonton, Vancouver and Calgary all seem to have the same issues. No defense. Edmonton was an absolute mess despite their offensive star in Connor McDavid. It doesn't matter if you have the top scorer in the league in back to back years, if you can't stop the other team, you can't win. Vancouver and Calgary have a couple of good players on the offensive side of the puck but not really relevant defenseman and should have extremely similar struggles.
Predictions:
East:
1st Round:
Pittsburgh vs. (WC1) Boston –

Boston

wins in 7 games

Washington vs.(3) New Jersey –

Washington

wins in 5 games

Tampa Bay vs. (WC2) Columbus –

Tampa Bay

wins in 4 games

Toronto vs. (3) Florida –

Toronto

wins in 5 games
2nd Round:
     (2) Washington vs. (WC1) Boston – Washington wins in 6 games
Tampa Bay vs. (2) Toronto –

Tampa Bay

wins in 7 games
Conference Finals:
Tampa Bay vs. (2) Washington –

Tampa Bay

wins in 6 games
West:
1st Round:
Nashville vs. (WC1) Anaheim –

Nashville

wins in 5 games

Winnipeg vs. (3) Colorado –

Winnipeg

wins in 6 games

San Jose vs. (WC2) Arizona –

San Jose

wins in 4 games

Vegas vs. (3) Los Angeles –

Los Angeles

wins in 7 games
2nd Round:
Nashville vs. (2) Winnipeg –

Nashville

wins in 6 games

San Jose vs. (3) Los Angeles –

San Jose

wins in 5 games
Conference Finals:
Nashville vs. (1) San Jose –

Nashville

wins in 7 games
STANLEY CUP FINALS:
Nashville Predators defeat the Tampa Bay Lightning in 6 games for their first Stanley Cup in franchise history.
Playoff MVP: Filip Forsberg

About the Contributor
Eric Wertz, Staff Writer
Grade 12

"I'm an apostrophe, I'm just a symbol to remind you that there's more to see." ~Dan Reynolds