Pass On What You Have Learned
Some Jedi Master advice from the Class of 2018 Top Ten
Hang on for a minute...we're trying to find some more stories you might like.
What does it take to be top of the class? Recently, The Red & Black sat down with the Class of 2018's Top Ten and asked them to share some of their insights on what it takes to be the best.
#10: Megan Egan-
Factors that have motivated Megan are her constantly comparing herself to her peers and being able to live up to that reputation. Her favorite option on a multiple choice test when all hope is lost is option C. Her parents have not really had an impact on her academics and that a lot of it has been accomplished by herself. She has sacrificed sleeping, as well as eating, considering she does not take a lunch. Her go to study beverage is tea. Her advice to others would be to strike a balance between academics and the rest of your teenage existence, don't give up the things you want to do for the things you need to do. That's part of the balance.
#9: Aimee Pina-
Aimee Pina's reason for excelling academically is entirely internal. This top 10 member simply does it to give back to her parents for everything they have given her. Her go to option on a test is C or E. She has sacrificed her own sleep, as well as hours working at her family job. Her go to beverage/snack is Lucky Charms Cereal or Honey Bunches of Oats and emphasizes putting the milk in before the cereal. Her advice to others is not worrying about rank and to just balance everything in your life.
#8: Andy Nguyen-
Andy Nguyen is motivated. He's not motivated academically but he see good grades as equalling a good job which equals to good money. His go to choice on a test is D. When he was younger his parents would chastise him if he were to do poorly. He hasn't really had to make sacrifices to do well, the only time he's ever felt like he's wasted time was a result of his procrastination. His go to study drink is water. His advice to others is not worrying about succeeding academically but rather doing something that makes you happy.
#7: Marissa Yun-
Marissa Yun has a natural drive to do the best that she can in that specific moment. Her go to option on a test is option C. Her parents have encouraged her to do well; however, they've never forced her to do so. She has sacrificed her own time to take more difficult classes, as she believes you should challenge yourself but also be able to decide if you want to take that class. Her go to study beverage is water. Her advice for others looking to succeed would be to challenge yourself but don't sacrifice classes you enjoy just for ones with a weighting, your classes should reflect your passions not your academics.
#6: Brooke Shellman-
Brooke Shellman excels academically because she is motivated, as well as a perfectionist, and thrives under pressure. Her go to answer on a multiple choice test is C or all/none of the above. Shellman's parents have been very supportive of her, and help her to recognize her own limits. Brooke Shellman has sacrificed sleep/peace of mind as well as a bit of her social life to achieve her academic excellence. In case you were curious her go to beverage is coffee or water. If Brooke had to share a piece of advice it would be to focus on yourself and to prioritize your health.
#5: Zach Hicks
Zach's key to success has been to never focus on rank but to focus on getting good grades. He fully advocates for peer review and strongly recommends that one utilizes the people around you when you need help. He gives a shout-out to his parents for teaching him to put school first. "Getting your work done is key — that means many late nights but it's worth it to succeed." Zach had worked hard over the years but he has had a good time at Pat-Med.
#4: Amelia Chesebro-     
"I set goals that I want to achieve and test my limits," Amelia says as part of her competitive yet zealous spirit so as to excel academically; "Making my parents proud" she adds. In closing, she was able to say: "Go for it, but don't make it your only focus, your only goal in life. Don't let it ruin your high school experience."
#3: Dan Gordon-
Dan was able to say that his parents had an impact on how he successfully achieved in his academics in that: "Both of my parents didn't go to college, so that acted as a motivation and an inspiration for me to achieve in my academics and to do as well as I could because grades are a component into getting into college." As some final words, Dan as able to state: "Don't stress out. Read as much as you can, and be able to communicate what you learned to others because that will show you how well you fully grasped the understanding of a given topic."
#2: Jonathan Craig – 
In motivation Jonathan says: "I desire to better myself so that I may enjoy my life. And in turn, being able to provide for others to find enjoyment as well." As a word of advice, Craig was able to say: "One must always be mindful of their limits. But also conscious of what they are able to do, as a way of testing your limits."
#1: Maddie Miehle –     
In response as to specific factors that have motivated her to excel academically, Miehle had to say: "Being able to acquire as much as I could was quite inspiring." She added that her parents had an impact on how she was able to achieve in her academics successfully by knowing how encouraging it was that her parents understood how it mattered and that they would be willing to do what was best for her and her education. In closing, she had this to say as a bit of encouraging words to others who strive to succeed as well: "It's being able to find balance. Don't sacrifice everything to be on top, and don't focus on the outside things such as the non-essentials."
We were happy to gain some words of wisdom for not only our future top ten candidates, but for all students to find success. They overwhelming key to success seems to be finding a balance and choosing what you love. To see the Top Ten in a fun light, see Raider TV's 10th broadcast featuring a special "Man on the Street" segment.
About the Contributors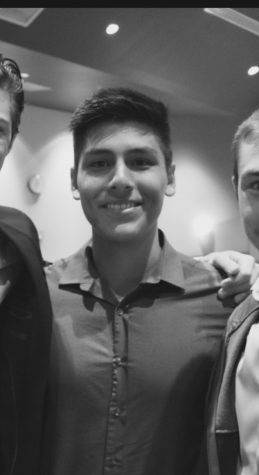 Justin Valverde, Staff Reporter & Co-Anchor
Gr. 12
"Live as if you were to die tomorrow. Learn as if you were to live forever."  ~Mahatma Gandhi