La Petite Patisserie de Patchogue
Review of the new patisseire near Main Street
Hang on for a minute...we're trying to find some more stories you might like.
Say "bon appétit" to the brand new pastry shop that is taking Patchogue by storm! Mademoiselle Patisserie, the creation of Mlle. Michelle Gillette Kelly, has just opened up and has been booming since its premier début in May.
The Inspiration Behind the Creation
Foreign language teacher-turned-baker, Michelle Kelly has been in business for a while, trying to find her style and experiment with food from different cultures. Previously, she has worked at her own bakery in Bayport and pioneered a movement towards introducing gluten-free, dairy-free goods on Long Island. Now, a long-time admirer of French cuisine, Michelle has decided to try something new and open up a pâtisserie in Patchogue. At the corner of North Ocean Avenue and Main Street now lays her petite French bakery to add to the increasingly diverse string of restaurants in town. Here, she is the head baker (she is also bringing in two new baking assistants, as the demand for her pastries is enormous).
A Chic Aesthetique
Upon walking up to this cache bakery, you will be greeted by Mlle Michelle herself, baking all of her sweet creations right in the front window of the shop. Handmade, locally-sourced and all-natural, these magnifique creations are to die for. Stepping into this place is like stepping into Paris- an experience that does not stop at the front door. The smell which surrounds the shop is one of freshly baked, homemade croissants, baguettes, and pains-au-chocolat.
From the beautiful displays of fresh-baked goodies, to the espresso machine, to the art hanging on the walls, this place makes you feel like you have just transported into a Parisian café. This adorable atmosphere provides for limited seating only, so grab a bite to eat and head over to the local park for a picnic à la française with your amour or your friends after school! The amazing staff of the patisserie are extremely warm and welcoming. Everyone who works here is very personable, especially Michelle herself (she remembered me from three months ago when we attended the same luncheon for Student of the Month- even though we had never even spoken together!). Head on over to make small talk with a smiling face or brush up on your French with some of the bakery workers.
What You Can Find À La Carte
Mademoiselle offers a wide variety of pastries and baked goods. On the menu, you will find everything from croissants, to madeleines (traditional, spongy, shell-shaped cookies), to mini cheesecakes and tarts, to a classic French baguette. Right now, the most popular items are- by far- chocolate croissants (pains au chocolat), raspberry tarts, and macarons. However, these items are flying off the shelves faster than Mlle. Michelle can take them out of the oven, so get there early!
Along with these delicious treats, you can also purchase a classic flat white, café au lait, or espresso to wake you up in the morning. Look like a real français, walking around town with your baguette and tasse de café. Gradually, Mademoiselle will add a certain je ne sais quoi to our diverse Patchogue-Medford community.
As previously mentioned, Michelle's experience in gluten-free and dairy-free baking means that there are many options for those with special dietary concerns. I even asked her about any vegan options and she said that she should work on that because they have been requested so much (so, look out for them in the future). Those with nut allergies should beware that French pastries are very often made with almond-based ingredients. Just make sure that the bakery workers are aware of your concerns, and they will be extremely accommodating to any special dietary requests.
During my visit, I picked up a croissant (of course) and an apple tart. Honestly, I can say that these magnificent creations were delicieux! Even my French teacher attested to the spot-on, airy, flaky, buttery perfection of Michelle's croissants that will have you wondering when you hopped off the plane.
Just the Beginning
Amazingly, this is just the beginning for Mademoiselle Patisserie. In the early stages of a soft opening right now, the bakery will not have its grand opening until the ribbon-cutting ceremony on Saturday, June 16 at 11-1pm. The future looks bright for the bakery, already selling out every day before 5pm. So, I would like to wish the store bonne chance to a future of success to come!
About the Contributor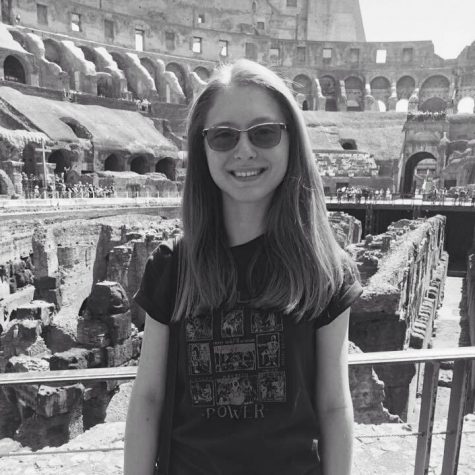 Amanda Coccia, Staff Reporter
Gr. 12

"I don't agree with what you say but I will defend to the death your right to say it." Evelyn Beatrice Hall