Educational Research From Across The Atlantic Ocean
Patchogue-Medford Superintendent, Dr. Michael Hynes, recently returned from a research trip to Finland in order to understand how their approach to learning differs from the United States.
Hang on for a minute...we're trying to find some more stories you might like.
Dr. Michael Hynes, superintendent of Patchogue Medford High School, has always been known for taking risks in the education field. The main reason behind his strides to a more progressive school system has been influenced by  his own children. His passion for education recently brought him across the Atlantic ocean to Finland, a country known for its educational successes and progressive thinking.
The Finnish education system contradicts ours in the United States in almost every way. There, the days are shorter, the buildings are more modern and, their relaxed attitudes about school have been producing astounding test scores for years.
If you're wondering why Dr. Hynes chose to go to Finland and not travel to a school of high standing within our own country, the answer is in the test results.
Each year, an examination called the PISA, has been given to fifteen year old students around the world. This test sorts countries education systems based on the teenagers knowledge of math, science and language. "Since the first year the test was administered, Finland has been in the top five," says Dr. Hynes.
Those statistics left an impression on him and with the help of William Doyle, another educator, Dr. Hynes was able to get the most education and advice possible to bring back to the United States and, his home district, Patchogue-Medford.
"
 "I would love to be able to bring their education system here to our schools. I know educators there who would also like to help with that process.""
— Dr. Hynes, Patchogue-Medford Superintendent
Each day started around 7:30 am and didn't end until 9 pm, spending about 70-75 hours throughout the trip talking to educators and professionals about how to take the education system. Each day would be spent at a different school and education level, learning how students at each step in the program learn in the Finnish school system.
"I spent about the same amount of time with teachers and students at the elementary level and the secondary level," says Dr. Hynes. Scheduling the trip this way, he was able to see the spark in children from the beginning and then see how they used their education to build their own opportunities.
In Finland, the kids are able to choose their own path after ninth grade. They continue their education at a school that they believe benefits their future best. Some students choose the college route and others choose a vocational path. "The teachers there have complete trust in the students, " says Hynes. They make decision for themselves based on what they want and both options are highly regarded in society.
The pressure to attend college does not exist because that decision does not determine their intelligence level. Students are not only taught their class material but through the use of multiple breaks in the day and time to hang out or socialize, they are taught more about themselves and individuals. They can better understand their strengths and weaknesses, which aids them in making the decision about their future.
"I would love to be able to bring their education system here to our schools. I know educators there who would also like to help with that process," says Hynes. The change has already started but, over the next few years, it will increase. Dr. Hynes plans to continue going back to Finland, next time bringing more educators, board members and possibly even students to witness the vibrant effects of education in another country.
For his full presentation, click here.

About the Writer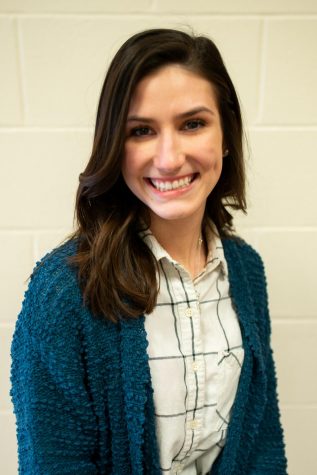 Sarah Bacon, Editor in chief
Grade 12

"Life isn't about getting and having, it's about giving and being." -Kevin Kruse