Students Say Badminton is a Racket!
You may have tried badminton in gym class or with friends, but have you considered joining Patchogue Medford's badminton team? Even if you love playing, if you don't have a lot of experience with sports the thought of this can be intimidating. However, members of the badminton team wholeheartedly recommend that you try it out no matter your experience level.
Mr. Dortonne, who has been the head coach for the last 12 years, says that badminton is "extremely fun to play" and it's a lifetime activity that "you can play for a really long time after graduating from High School." Badminton is also a beginner friendly sport because it may not be as intensely competitive as other sports, but "the environment surrounding it is very exciting."
The members of the badminton team agree with Coach Dortonne's sentiments and enjoy many benefits from being involved. Paige Driscoll, a new member of the team, says that she loves hitting the birdie because she can "be aggressive and relieve stress." Several players also agreed that badminton is a highly social sport. Temilade Olateru-olagbegi, who has been on the team for 2 years, expressed that she loves "that you can have fun and meet nice people," and Ariana Clendaniel, a newer member, loves engaging in teamwork because "you can grow closer with your partner." Another member, Rudra Patel who has been playing for 3 years, explained that it's nice to be able to play on your own, but playing with others "helps with collaboration and social skills."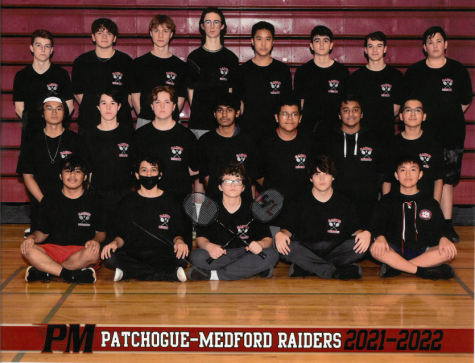 If you are interested in trying out for the badminton team next year, you should consider some of the players' advice. Itzel Caraballo suggests "do your schoolwork beforehand because the games can go really late," and there will be many games. Time management is very important when becoming involved in extracurricular activities, so you should consider how badminton may impact your academic duties. Sean Owen also advises interested students to "come and try out, but don't be nervous if you start out bad because if you practice hard, you will get better," and Temilade Olateru-olagbegi says to "take corrections from your coaches." The thought of trying something very new can be scary but the badminton team creates a comfortable and stimulating environment for students to learn and improve.
Thank you to Mr. Dortonne and all the badminton team members mentioned above for contributing to this article!
Leave a Comment