Artistic Expression through the Art Show
Hang on for a minute...we're trying to find some more stories you might like.
The arts have been described as beautiful, crucial, and an important part of many people's lives. Art is used as a way for some to express their feelings and thoughts, and even just to play around with or have fun. Some schools question the importance of an arts program or even consider drastically cutting funding. The arts are just as important as any other extracurricular activity.
In many schools, the arts program sets aside an amount of time where they display students' pieces of art and allow them to be publicly praised for their hard work and talent. This is known as the Art Show and it takes place in our very own high school. The art show has been going on in our school and other buildings in the district for the last 30 years. According to art teacher, Mr. Scholz, it has altered and changed over the years. He says, "A few years ago we started to give the AP studio students a special place to display their work in lobby." Mr. Scholz added, "We added a hanging system for framed work." He then went on to explain that the art work presented is actually judged by alumni who have pursued careers in the arts. The show this year took place over the span of a few days- from May 11th until June 2nd, with a reception that was held May 31st from 7:00-8:30 pm. It was a wonderful evening.
The arts program itself has effected many young people's lives, serving its purpose as an emotional/ physical outlet, or a way to pave the road to a brighter future. But just how does the Art Show impact students? One of our studio teachers, Mrs. Gladd, says that for art students, the show is a great way to praise young artists for their hard work and is a crucial method for them and their peers to appreciate the effort and dedication that was put into each and every individual piece. A participant in the show, 11th grader Rebekah Josema, couldn't agree more. She says that, "Being asked to participate in the art show is such an accomplishing feeling because my hard work is finally being seen by people who enjoy art as much as I do." I'm sure many others feel the same.
Students are also curious as to what they should expect this year in respect to the show. Mr. Scholz explained that they should, "Expect to see a wide variety of work in all mediums." The types of art exhibited will be "realistic, abstract, photography, drawings, paintings, digital media and sculpture." And that's exactly what I saw when I attended the reception May 31st. The feeling and energy present was unbelievable. The amount of people present was overwhelming. The art work- every last piece- had such different beauty to it. All the hard work, sweat and tears paid off, the night was indescribable. The teachers and students alike were so loving and supportive of one another. The night was so full of warmth and happiness, I dreaded leaving. It was a night hardly to forget, what a tragedy if you missed it. Worry not though, with continued support from our community the Art Show will return next year!
Even as the show comes to an end, the energy never really dies down or fades away. Because young hands are still creating masterpieces, and next year's show is already excitedly anticipated. Mr. Scholz, Mrs. Gladd, and every other art teacher seem to be in agreement that the art pieces exhibited every year bring the hallways of this school to life and it appears that our fellow students couldn't agree more. Who knows? Perhaps next year you'll be a part of the show. Until then- continue expanding your horizons. The worst injustice to this world is to allow life to suppress creativity. Art changes the world because it changes people's perspectives- BE THAT CHANGE!

About the Contributor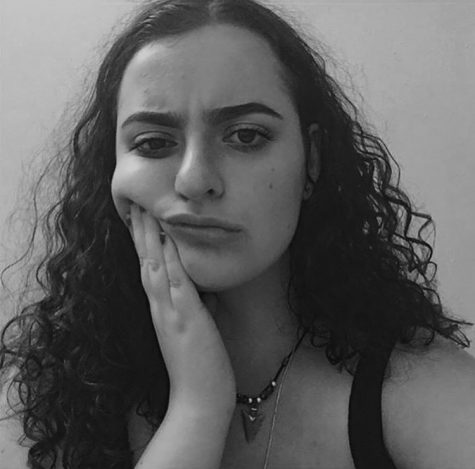 Jade Belli, Staff Reporter
Gr. 12
"None of us really changes over time. we only become more fully what we are."