The Robotics Season Powers Up
The Mohawks "reboot their systems" in preparation for the new season.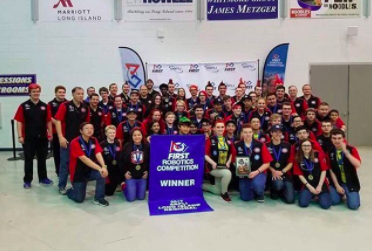 The Chairman's Team which focuses on STEM outreach and community service. FIRST prides itself on a culture of opportunity and cooperation. As a result, Team 329 has developed various initiatives to help the local community and beyond. Programs that the team have started and continue to improve The Patchogue-Medford FIRST Robotics Team 329 has been a powerful force throughout the robotics community as well as the local and global community since its inception in 1999. Having qualified for the world championships consecutively for over a decade, the Mohawks are once again neck-deep within the intense robotics season.
From the (corny) "Maize Craze" in 1992 to this season's video game-themed "Power Up", every year the FIRST organization has hosted a completely different challenge for the now over 3,000 high school teams across the world. In this year's challenge, alliances of robots must use significant strategy to complete a variety of tasks from manipulating yellow "power cubes" to "levitating" their robot.
Having a mere 6-weeks to build a sophisticated robot and to develop a clever stratagem, the team is always focused. According to veteran team member Ishika Patel, "My team members and I prepare ourselves for late nights and hard work but we all have a good time." When she says late nights, this is not an overstatement. While most students are getting ready for bed, you will likely find a robotics member assembling a gearbox in the upstairs mechanical lab or a programmer typing away, figuring out the proper code for image processing. Just by walking into the room, it is clear that an incredible amount of devotion is put into the robot.
Something few know however is that the construction of the robot is only a singular aspect of the FIRST Robotics Competition. In fact, Ishika says that the most prestigious award that can be won has nothing to do with the robot itself. She is a co-leader of include the Junior Engineering Program and the Girl's STEM Seminar, both of which aim to improve access to education in science, technology, engineering, and mathematics. In only recent years, the effects of initiatives like these have been felt by the thousands of students across the Patchogue-Medford School District and beyond. As we speak, development is underway to perhaps even reach foreign countries.
The team's first competition of the year will be at Hudson Valley starting March 22, 2018. The Mohawks are sure to do great as they "power up" for the 2018 season!
For more information on team 329, visit their website.
About the Contributors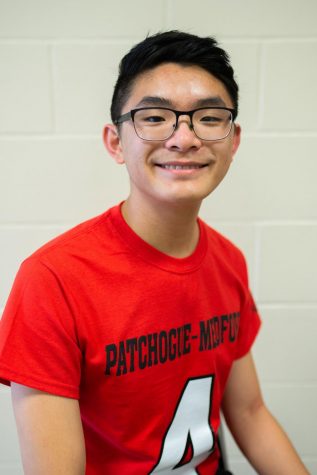 Anson Zhou, Co-Editor
12th grade

3rd year Staff Member