Key Club LTC
Hang on for a minute...we're trying to find some more stories you might like.
Patchogue-Medford's very own Key Club has already had an amazing service year, attending events that impact both locally and globally to make a positive difference. With just under 130 members this year, Pat-Med is only a small part of Key Club International, the oldest and largest service program for high school students. As one of the largest clubs at the high school, Key Clubbers wholeheartedly dedicate their time to giving back to the community.
Although only halfway through the academic year, the club has already participated in a myriad of activities to provide service to the community. With regular venues such as St. Francis Soup Kitchen, Dew Drop Inn, and the Bristal Assisted Living Home, Key Clubbers have devoted countless hours every week to aid those in need or just want someone to talk to. Additionally, the club has engaged in numerous big events throughout the year, including the Patchogue River Cleanup, the Thanksgiving Food Drive, the Patchogue Holiday Parade, and the Kiwanis 5K Toy Trot. The consistent attendance of Key Club members at these annual events only goes to show their powerful commitment as an ambitious group to address social problems within the Patchogue-Medford district.
Recently, Patchogue-Medford hosted the bimonthly divisional, in which Key Clubbers from William Floyd, Copiague, and Pat-Med came to vote for the new Lieutenant Governor, a high-ranking position in charge of one of 29 divisions within the New York District. Although it was a very close call in which votes could have gone either way, Pat-Med Key Club's current president, Anson Zhou, ultimately won the election over Copiague's and Floyd's equally qualified candidates. It was a very exciting divisional, and Anson will be officially given the position as Division 2 Lieutenant Governor next month in Albany as a proud representative of Patchogue-Medford High School.
Every year, the New York Key Club District hosts the Leadership Training Conference in the capital city of Albany. During this three day event, which spans from March 23rd-25th, Key Clubbers from all over the state converge together for a weekend filled with exciting activities. Members will be staying at the Desmond Hotel and Conference Center, a luxury hotel that is consistently voted the best in Albany hotels. In honor of the 70th Annual Leadership Training Conference, this year's theme is "Birthday Bash," where dinners, dance parties, and other programs will all contain a "birthday" theme. During the three days, Key Clubbers will be attending workshops, receiving club awards, voting for their new executive board, and participating in group activities.
Besides having fun, these seminars are meant to educate members on what it truly means to be a Key Clubber, incorporating aspects such as implementing new initiatives to provide for the community, running for higher office, cooperating with partner organizations such as UNICEF, and keeping track of meeting minutes. Those who attend LTC will be sure to bring back valuable insight and skills to ensure the success of their home club. Additionally, most high school clubs will have had their elections by then, so the new executive board members will be able to learn the duties of their position (President, Vice President, Secretary, Treasurer, Webmaster). The annual Leadership Training Conference is a great event to expose Key Clubbers to service outside of their home community, as well as interact and form strong relationships with members just as dedicated to community service across New York State.
Certainly, LTC has several of its own little quirks, including the infamous talent contest and chant. Initiated by someone asking "How do you feel?", Key Clubbers respond with "I feel good! Oh I feel so good!" followed by a grunting noise. While this may seem ridiculous, the chant is universal to Key Clubbers all across the world. In addition to training workshops, Keynote speakers and entertainment sessions will introduce club members to real problems across the globe as well as make sure they are able to enjoy their time during the 3-day weekend. This year's speaker will be Saul Flores, who walked 5,328 miles through ten countries to document the dangerous journey of immigration to the United States and to raise money for an elementary school in Atencingo, Mexico. All attending are sure to have a blast at this exciting event next month!
While Patchogue-Medford Key Clubbers have already experienced an amazing 5 months of service, they will only continue to provide service to the community to the best of their ability. For their February service project, members will be selling chocolate roses throughout the first full week of the month. After the purchase of a slip during the week, these roses will be delivered in person during first and second period on Valentine's Day. Proceeds gained from this event will be donated to the Honeybee Conservancy, a non-profit organization that works to save one of the most precious pollinators on Earth. Key Clubbers have a strong desire to impact the world in anyway they can, and this project only goes to show their inclusion of environmental concerns. As the Key Club motto goes, "Caring-Our Way of Life" is a true representation of what all members live by.

About the Writer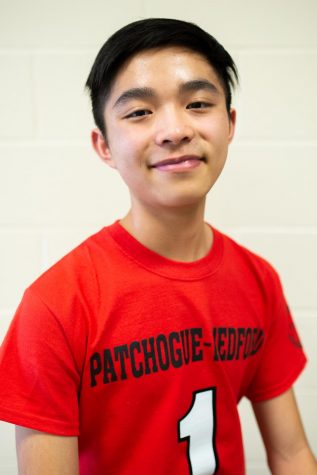 Justin Zhou, Co-Editor
Grade 12

3rd year staff member