The Mohawks Power Up!
PMHS Robotics Team 329 took on regionals at Hofstra & successfully advanced to nationals!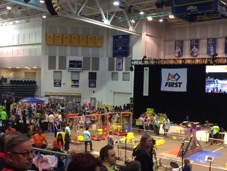 The FIRST organization, which stands for "For Inspiration and Recognition of Science and Technology", is an international outreach program dedicated to encouraging youth to not only pursue STEM careers, but promoting self-confidence, leadership, cooperation, and other skills.
Last Thursday, Patchogue-Medford's FIRST Robotics Team 329 embarked on their annual competition at Hofstra University. Hosted by the School-Business Partnerships of Long Island, Inc. (SBPLI), FIRST Robotics teams came from as far as Croatia and Turkey to attend the event.
Established almost twenty years ago, Patchogue-Medford Team 329, famously known as the Mohawks, has already experienced one of its most eventful seasons to come. This year's video-gamed theme "Power Up" pushes robots to strategically manipulate power cubes around the field while working within an alliance of three robots.
At the conclusion of a 6 week build season that began in January, the robotics team headed up to the Hudson Valley Regional at the end of March. At this regional, the Mohawks were prestigiously recognized for their STEM outreach throughout the community with the Engineering Inspiration Award. This honor came with both a ticket to the Detroit internationals later in the month, as well as a stipend for the team!
Last week, Team 329 attended SBPLI Long Island Regional #2, taking venue at Hofstra's David S. Mack Sports Complex. As member Ishika Patel stated, "Competitions are always exciting because we get to showcase the robot that team members have spent hundreds of hours on."
Managing the robot's performance on the field was driver Matt McCabe, operator Shannon McCarthy, and human player Jarett King, in addition to fervent workers in the pits and stands.
Also noteworthy were juniors Ishika Patel and Rylan Jugan, and sophomore Meghan O'Leary, who competed for the regional Chairman's Award. This project took an immense amount of time, practice, and dedication to achieve the level in which they presented themselves.
Because of the robot's admirable performance during qualifying rounds, ranking 15 out of a total of 44 robots, the Mohawks were selected to play during quarterfinals on an alliance with fellow teams the BayBots and the Mustangs. Although later eliminated by what would be the winning alliance of the competition, the dozens of team members present in the stands never felt discouraged and persisted in their encouragement, team pride, and good sportsmanship.
During closing ceremonies, the team was again recognized for their fantastic efforts throughout the global community. The Judges' Award acknowledged the Mohawk's FIRST STEP  (Support and Team Exchange Programs) initiative, a program dedicated to financially and materialistically assisting international teams attend regionals they might not have the funds for.
In addition, junior Jay Ahir was honored the MVP for the Mohawks in recognition of his unwavering commitment to the team.
"
"I look forward to competing at the national level now, and can't wait to meet more students who are just as passionate about robotics as I am.""
— Ishika Patel, Dean's List Finalist
The main showpiece of the event occurred at the announcement of Dean's List Finalists, which "celebrates outstanding student leaders whose passion for and effectiveness at attaining FIRST ideals is exemplary."
Junior Ishika Patel was prestigiously awarded this honor on Saturday night, and will be attending a special event at championships with a number of personnel from the FIRST enterprise.
She later stated, "Being announced as a dean's list finalist at our regional competition is one of my best experiences on this team. I know I couldn't have gotten this far without my team members and advisors backing me up and supporting my work. I look forward to competing at the national level now, and can't wait to meet more students who are just as passionate about robotics as I am." The entire team is proud of Ishika's amazing achievements.
Ending on a high note, the robotics team will be heading to FIRST championships in two weeks to compete against hundreds of winning teams. This is truly an event that brings together students from nations all across the world who share similar passions.
Member Rylan Jugan states, "Over the weekend, our team was able to perform well at the Hofstra Regional Robotics competition, prior to our 12th World Championship event. We are confident with our progress, and look forward to competing against the best teams from all over the world in two weeks time."
Best of luck to the Mohawks, and only time will tell just high up they'll soar this year.
About the Contributor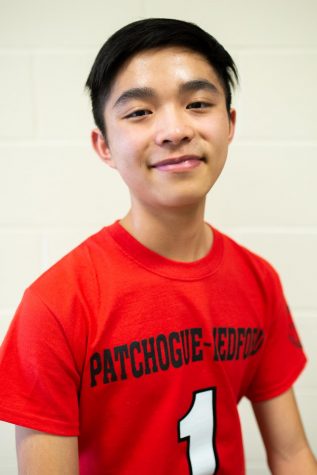 Justin Zhou, Co-Editor
Grade 12

3rd year staff member