Bringing Home the Gold!
Our Editor in Chief wins prestigious CSPA Gold Circle Award
A memorable moment for Patchogue Medford's high school newspaper, The Red and Black; The editor-in-chief, Michael Alduino, was deemed recipient of Columbia Scholastic Press Association's Gold Circle Award for Best In-Depth News/Feature Story. Not only is this award an honor on behalf of Patchogue Medford High School, but it reflects the hard work and dedication of the Red and Black staff, who take pride in their articles. Thanks to Michael, such dedication can be reflected through this award.
The Beginning
In the fall of 2016, Pat-Med's The Red and Black revamped its image. It was during this time that Michael Alduino got his start working with the newspaper. Working his way up to the position of editor-in-chief, Alduino assumed great responsibility with regards to the flow of articles published on the Red and Black website. From consulting with the newspaper staff, to assigning articles to them pertaining to their specific strengths, Alduino plays a large role in the overall depth and validity of the newspaper's articles. After all, the most compelling stories are written by those who are interested in their topics; it is Michael who ensures that the staff is content with the topics they are assigned. In addition to his role as editor-in-chief, Alduino is a leading staff writer for the Red and Black. One can imagine the interest Alduino has for his articles as one of his greatest responsibilities is ensuring such interest within others. Moreover, it is no surprise that one of Michael's stories had the fervor to secure one of the most prestigious awards in the industry of student journalism.
Writing Style
Interestingly, Alduino would describe his writing style as quite unorthodox- he says it how it is. For him, it is important that whatever comes to mind flows freely into his pen and onto paper immediately. "I try not to ponder the subject of a story. Instead, I just write how I feel as soon as it comes to mind. It's more authentic that way," he states. On this note, It is Alduino's raw approach to writing that helped structure his compelling article on a film titled "Screenagers." The film highlights the negative effects technology has on teens, and Michael brought great awareness to this pressing issue through his reflection of the film. Not only did this article shed some light on technology's hold on adolescents, but it also gained enough recognition by the Columbia Scholastic Press Association to secure its prestigious Gold Circle Award.
A Great Honor
When Michael Alduino was notified of his achievement, he was quite shocked. After all, he wasn't even aware that his article had been submitted to the CSPA, let alone taking first place over 5,000 other applicants. "I'm not used to taking first place, so I was definitely not expecting to win an achievement of this caliber," he stated. It is inevitable, though, that passion yields success, and Alduino was only reaping what he sowed. Thanks to Michael's dedication to the production of genuine articles, Pat-Med's The Red and Black now has a tangible symbol to reflect such dedication. As a result, Alduino will be forever known as a formative element in the growth of The Red and Black newspaper.
Michael's Message
Not only has Michael's experience working with The Red and Black  developed his confidence and communication skills, but it has also taught him important lessons that he will carry with him for the rest of his life. "Something I had to learn: Always take everything with a grain of salt. Everyone has their own opinions," stated Alduino. Had he been afraid of expressing his raw and unfiltered stance, Michael's award winning article may not have had the ardor that secured the award in the first place. In addition, Alduino stresses the importance of looking beyond the information presented to one as he develops his stance. The truth is not always revealed on the surface of the matter. "Dig deeper," he states, "You can't judge a book by its cover, especially in journalism."
About the Writer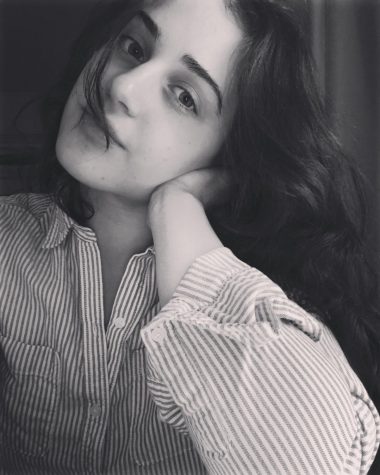 Julia Keiffert, Staff Reporter
Gr. 12

"If your dreams don't scare you, they're not big enough."