It's Time for BASH
Raider TV team took home 2 awards from the 2nd annual broadcast awards, BASH.
On May 4, 2018 the Raider TV crew (Justin Valverde, Stella Wilkins, Matt Correa, Nicolette Savattere, Delaney Reh, Sarah Emr, P.J. Osheske, Andres Rendon, Pelin Bozok, Stephanie Sheridan and Gianna Gordon) attended the second annual 2018 BASH which stands for Broadcast Awards for Senior High.
This year the event was held at Southold School where more than 300 students and staff participated in this event, it was more than they expected. Their goal for future BASH is to grow in size to hopefully by next year; use a bigger venue and gain even more submissions.
To get started we went into the auditorium and heard a keynote speech from Polo Sandoval who works for CNN and covers breaking news stories in New York.
Then we went into a breakout session and were divided among colors where we would hear from any of the Television media or Journalism experts (Emmy award winning Photojournalist Randee Daddona, Hofstra University's Mark Lukasiewicz, Times Review media group Krysten Massa, producer/editor for NBC News Kyle Scott and even MTV's Chelsea Stoutenburgh).
I was put into a group with Krysten Massa who told us about her Documentary GONE. It's about a 38 year old mother that went missing in 1966 and was never seen again. Her daughter Sandy never got closure of what happened to her mother 51 years ago and never had an investigation. It was an amazing story of the untold truth.
Next, was the Award Ceremony. There was 8 categories including Best Opening Segment, Best Anchor Team, Best Sports Package, Most Entertaining Package, Best School News Package, Best Community News Package, Best Public Service Announcement and Best Broadcast.
Submissions were reviewed by judges, then presented trophies to first, second and third place winners in each category. For first place winners they also showed their submission video. I have to say every school had amazing submissions, but I am very proud to say that our Raider TV came in first place for Best Anchor Team and we also got third place in Best Broadcast.
Although this was my first time at an event like this for Raider TV I thought it was an amazing experience. I'm excited to continue this journey throughout my next few years. It was also a really good learning experience especially if you want to do something like this as a career or even if you are interested in something like broadcasting or journalism.
About the Contributor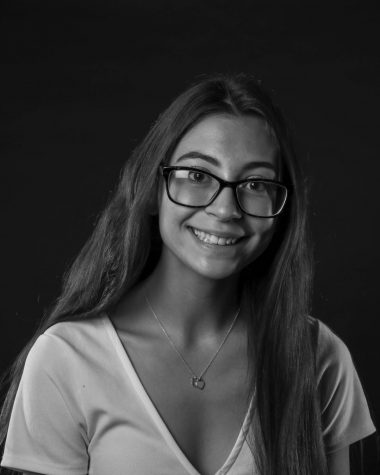 Nicolette Savattere, Assistant Editor for Public Relations
Nicolette Savattere is a senior at PMHS and it is her third year on The Red and Black.  She enjoys watching TV, trying new restaurants and being a co-anchor...