Presenting Discoveries
Pat-Med students attend island-wide science competition.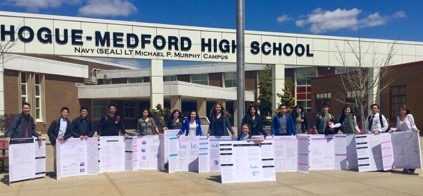 Hang on for a minute...we're trying to find some more stories you might like.
Science is a dynamic force, constantly evolving, never dormant, and always at the forefront of humanity. Since the beginning of the school year, Patchogue-Medford High School students from the newly implemented Capstone program have been fiercely researching topics of their choice and setting themselves on the path to discovering new information that could change our present understanding of various avenues of life. From student achievement to alternative ADHD treatments, from impacts of hurricanes on the economy to genetic analysis, the projects covered quite a spectrum of fields amongst just sixteen students.
Finally, on Wednesday, April 19th, these students had the profound opportunity to present their scientific works along with hundreds of other students across Long Island at the Long Island Science Congress (LISC) hosted at St. Anthony's High School. The moment the students entered the massive indoor track where the event was being hosted, a sense of awe was evoked. From one side of the track to the other were just rows upon rows of colorful poster boards filled with "scienc-y" words. It may have been almost impossible to understand the complexities of all the projects at the event, but what was clear was the fact that students with similar passions had been all brought together in one place.
Over the morning and into the afternoon, all attendees had their projects judged multiple times. Because of their vivid understanding of their own research, the Patchogue-Medford students did a phenomenal job communicating their findings to whoever was interested in their work. Of course, being in such an environment was exciting but humbling as well. The variability in projects and the overall intricacies of many of them gave an insight into what the research world had to offer, even to young individuals. In fact, many of the graduating seniors, as a result of the skills and experiences that they have gained doing independent research in high school, are aiming to conduct research at an even higher caliber once they attend college. While the students were busy talking to judges and meeting new friends, Patchogue-Medford teachers were quite busy themselves. Dr. Gatz and Mr. Carpluk, who teach the AP Research class along with biology teacher Ms. McAuley, acted as judges at the competition. They and their students had the incredible experience of learning a great deal about research topics of all kinds.
It is important to keep in mind that this event was not only an experience, but it was an opportunity to reach farther. For many of the students, it was their first time presenting their findings in such a manner. But as they say, there is a first time for everything. With no doubt, in the future, they will continue to break their own expectations and take their research experiences to whole different level.
About the Contributor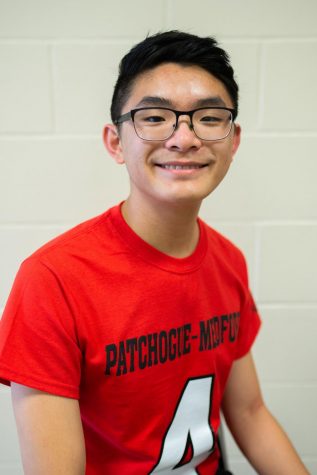 Anson Zhou, Co-Editor
12th grade

3rd year Staff Member