Stick It To Cancer Takes On A New Meaning As It Affects One Of Our Own
The Raiders Girls Varsity Field Hockey Team played in their annual Stick it to Cancer awareness game Monday Night on the turf.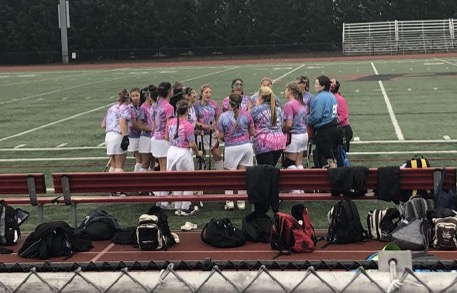 Hang on for a minute...we're trying to find some more stories you might like.
October is a month where many sports teams come together to raise awareness for Breast Cancer. This year the Raiders Girls Field Hockey Team (RGVFH), came together to support this cause as well as Colon Cancer. Recently one of our gym teachers has been struck with Colon Cancer, and the school is banding together in support.
The Raiders took the field in their annual "stick it to cancer" game dressed in tie-dye blue and pink for the signature colors of Colon and Breast cancer.
They took a lead with the first goal being scored by Rachel Edwards early on in the game. They continued to dominate with another goal scored by Yasmin Rodriguez.
I was able to talk about the Stick it to Cancer game and her experience on the team with Rachel Edwards.
Red & Black: How do you hope this game contributes to Colon and Breast cancer awareness?
RE: "This was our 11th annual Stick it To Cancer Field Hockey game, we knew that our family and friends would be eager to support this cause as we all have has a loved one affected by cancer. We decided to dedicate this game to colon cancer as it has affected one of our beloved gym teachers and coaches, We hope this game brings awareness to not only breast cancer, but to all other cancers that may lack awareness. As no one should have to fight cancer alone.'
Red & Black: What have you learned from being a part of this team for the last 4 years?
RE: "Being apart of this team has shown me how to handle leadership responsibilities as i had 17 girls depending on me to lead as example on and off the field. I was so honored to be captain this year and form a tight bond with my teammates,"
Red & Black: What is your favorite memory from the team?
RE: " I don't have one specific memory that is my favorite, but i love having pasta parties with my team. Being able to talk, sing, dance, and enjoy good food together is something I look forward to every season."
The team's hard work and effort paid off in the end. The last goal being scored by Alyssa Sacco to secure the 3-0 win. Good luck on the rest of your season girls!

About the Contributor
Jenna Potter, Assistant Editor
Grade 12

"The sun will rise and we will try again."